By CaptainSmirk @ February 11, 2014 at 4:30pm

Greetings Agents!

It's that time of the year! The sun is out, birds are chirping merrily, heads are popping like ripe melons… Ah yes, Love is in the air… Kind of makes you smile.

Happy Valentine's Day fellow Agents.

Happy Valentine's Day Domino! Hey… This isn't going to be some mushy gushy post about lonely hearts and all that other nonsense… is it?
Hahaha nah! Though I'm glad you brought that up! You see Agents, inside one of the many faceted layers of this amazingly awesome specimen of amazing awesomeness beats the heart of a hopeless romantic…

D'AWWWW
Ok , ok, ok, that's enough of that. As I was saying… I am a bit of a hopeless romantic, and I was thinking to myself, 'Domino' I says, 'Domino you need to share some of that love with the community!' Then I thought, what better way to give the community some love than by running a little event? MAYBE a Livestream?

LIVESTREAM!?! EVENT!?!? WOO HOO!!!
Yes friends! That's right! I'm going to be hosting a very special Valentine's Day Event all weekend long… I call it: Keep the Love Alive!

Keep the Love Alive? I'm down… What do I have to do? No sappy Love Letters or anything… Right?
NOPE! This event is pretty unique, let me break it down for you. We've received a new addition to the Blacklight family, He doesn't say much, but he came highly recommended by our good buddy TomTurkey. Friends, I'd like to introduce you to CupidMcLovin! Cupid go ahead and say hi!

" <3 "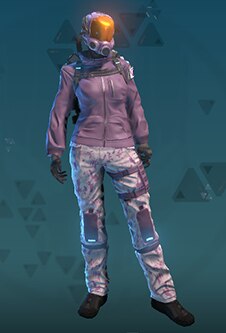 Okay Guys, That's Cupid. Starting On Valentine's Day, Cupid will be jumping into random TEAM BASED matches on both the US/AU, and EU servers. The Objective is pretty simple. Keep him alive. I'm talking Heal Injectors, Revival Injectors, Take a bullet for the guy! Just Keep him alive! Only the players on his team are eligible to win so if you are not on his team, make their lives hard and try to kill him as much as you can. Now Cupid does have some protection, but there's only so much protective nodes can do when you're running a 150 build. During the course of the match, Cupid will be observing the one or two players who stick out as the ones who've gone above and beyond the call of duty to keep him alive. At the end of that match those players will receive their prizes!

Prizes? I love Prizes! Prizes are the bestest!!! What Prizes are you talking about here?
Well, we've loaded Cupid up with a pretty large assortment of items loosely (and I also use that term loosely) centered around a Valentines theme! He's got Body Camo, Weapon Camo, and a few Premades; If you Keep the Love Alive, you might just get a little sumthin' sumthin'. I do have to warn you though, these prizes will be handed out at his discretion so be nice and don't flood his mail with all sorts of requests. Like I said, the kid doesn't talk much.
Hey Domino, you said that this starts on Valentine's Day. When?
Ah, I'm glad you asked! We're going to kick off this event in style! Join me at 5pm PST for our Official Valentine's Day Livestream! I'll be manning the helm as I game on with you guys till 6:30pm! The Livestream marks the official Kickoff, and we'll be running the event until I get in the office on Tuesday Morning 10am PST, Join us on our official Twitch channel for fun, romance, and EVEN MOAR PRIZES!

MORE PRIZES!?!
Hehehe… Let's just say I've got 2 packs that I've been saving for an extra special occasion. That's right! I've got an E3 Pack AND a Veteran's Pack and I want to give them to you! Just watch the Livestream for a chance to win!
THE EVENT: Keep The Love Alive
THE RULES: Keep CupidMcLovin alive through any means necessary. Only Players on his team are eligible to win. Only one item per winner.
THE TIME: Event Starts at 4pm PST 2/14/14 and runs through 10am PST 2/18/14
THE PRIZES:
- Perm Digital Red Body Camo
Perm Red Leopard Body Camo
Perm Ragnarok Body Camo
Perm Digital Red Weapon Camo
Perm Red Lepoard Weapon Camo
Perm Ragnarok Weapon Camo
Perm White Weapon Camo
Perm Metallic Pink Weapon Camo
Perm Matte Red Weapon Camo
Perm Briar 04XL 'Fatal Attraction' Premade Shotgun
Perm 'The Burning Sensation' Premade SMG
Perm Briar JLM.5 'SOLO' Premade AR
Redsand GW2 'Black Widow' Premade TSMG
ArmCom X3-Elec 'Home Wreaker' Premade AR
THE LIVESTREAM: 5pm PST – 6:30pm PST
THE PLACE: http://www.twitch.tv/perfectworld_community
So what do you say Agents… Will you be my Valentine?