By TrailTurtle @ March 28, 2013 at 2:58pm

Agents, you've already gotten tons of GP tokens through our missions system. Now we're adding tons of new missions, including two spring-themed missions, and offering a new chance pack as a reward!
These new missions are broken down into Daily and Hourly missions. Hourly missions will reset every hour, so you'll need to finish the mission from start to end in 60 minutes.
Most of these missions have the new Mission Chance Pack as a reward. The MCP has a ridiculous amount of possible items – loadout slots, receivers, depot items and equipment, and more. You'll also have a small chance of getting a Bronze onslaught pack.
As a seasonal bonus, for a limited time only, the MCP has a chance of getting the Easter Egg weapon tags. This is the only way you'll be able to get those weapon tags, so make sure to pick yours up!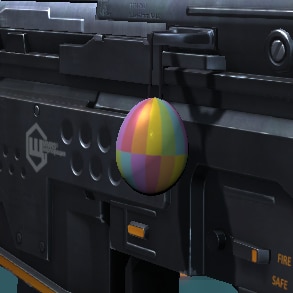 Daily missions:
Displaced: Collect 50 bronze tokens in Onslaught; you'll earn a Datanode Chance Pack.
Silver Lining: Collect 30 silver tokens in Onslaught.
Gold Plating: Collect 10 gold tokens in Onslaught.
Hug a Medic Day: Heal 5000 health points.
Devoted Agent: Get 30 kills.
First Win: Get your first win of the day for a GP token.
Savior: Revive 10 allies. (Limited time!)
Hourly missions:
Bunny!: Make 40 jumps… with a frag grenade out. We recommend handling this Easter Egg carefully. (Limited time!)
Depot Devotee: Deal 1500 damage with depot items.
Newbie: Fail hard enough to die ten times; get an XP token.
All possible Mission Chance Pack rewards… make sure to scroll down.
Onslaught Bronze Pack
Loadout Slot
Taunt Chance Pack
Uncommon Datanode Chance Pack
Datanode Chance Pack – All
GP Token – 100
GP Token – 200
GP Token – 500
XP Token – 1000
XP Token – 2000
XP Token – 3000
XP Token – 5000
GP Token – 1000
5% XP
10% XP
5% Team XP
10% Team XP
5% GP
10% GP
5% Team GP
10% Team GP
Easter Egg Tag 1
Easter Egg Tag 2
Easter Egg Tag 3
Easter Egg Tag 4
Easter Egg Tag 5
Easter Egg Tag 6
Easter Egg Tag 7
Easter Egg Tag 8
Heavy Pistol
Revolver
Machine Pistol
Shotgun
Burstfire Pistol
Bolt Action Rifle
Combat Rifle
Burstfire Rifle
Submachine Gun
Light Machine Gun
Tactical SMG
LMG Recon
Breech Loaded Pistol
Shotgun AR-k
Heavy Assault Rifle
Burstfire SMG
Anti-Materiel Rifle
Bullpup Full Auto
Snub 260
M4X Rifle
AK470 Rifle
Heavy Pistol
Revolver
Machine Pistol
Shotgun
Burstfire Pistol
Bolt Action Rifle
Combat Rifle
Burstfire Rifle
Submachine Gun
Light Machine Gun
Tactical SMG
LMG Recon
Breech Loaded Pistol
Shotgun AR-k
Heavy Assault Rifle
Burstfire SMG
Anti-Materiel Rifle
Bullpup Full Auto
Snub 260
M4X Rifle
AK470 Rifle
Heal Injector Mk.1
Repair Tool
Ammunition Pod Mk.1
Barricade Mk.1
Revival Injector Mk.1
Cloak
Hardsuit HRV Ping
Hardsuit Battle Mode
Respawn Beacon
Firewall Breach Kit
HRV Cloak
RL2a Swarm
RG057 Ghost
A36 Brimstone
GL-7 Bear Claw
T56 Trident
AT-D4 Deployable Turret
KTN8 Katana
HardSuit HRV Decoy
MK1 Assault Bot