By CrabClaw @ August 16, 2012 at 9:34am

30 Days of Fight is now LIVE! From 8/16 through 9/14, a daily $1,000 giveaway will be held, with eligible Agents all fighting for a piece of a grand total of $30,000!
First things first – get registered! Determine your eligibility by reading the official rules, and then fill out and submit the information. Once complete, you are ready to get in game and start fighting your way towards a chunk of the prize money.
Note: When registering currently, both lines of the address field need to be filled. This will be changing in the near future, but for now an example of what your filled out address field would look like is:

Line 1 – 1414 Delaware Street

Line 2 – Anytown, CA 94404

Additionally, when registering ensure that you are not connecting through a proxy IP address or you will not be able to access the page. You can tell if you are connecting through a proxy IP by visiting www.whatismyip.com.

Having a shot at the prize money is easy – simply complete and/or win as many matches as possible. Completing a match will earn you one Fight Ticket, and winning a match will earn you two Fight Tickets. Each fight ticket is your chance at winning the daily $1,000 giveaway! Only public matches will count towards earning Fight Tickets.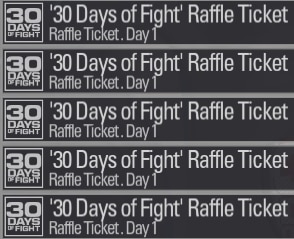 To help keep track of your Fight Ticket totals, a counter in the upper right hand corner will display your current ticket total for that 24 hour period. Once a drawing has occurred, the counter will reset back to zero and begin rising again as you earn new tickets. Additionally, tickets you earn will be stored in your inventory. Each ticket is only good for the day that it was earned on, and will automatically disappear after 3 days to keep inventory space manageable.

Besides the prize money, some swag is also up for grabs! An exclusive 30 Days of Fight emblem is available to everyone – simply log in during the promotion and watch out for the news item that will pop up on your first log in. Click on the emblem that's attached to the popup, and it will be added to your inventory.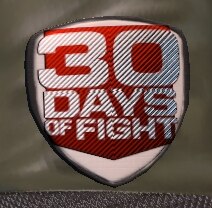 Also, once the promotion is over, anyone that earns at least one Fight Ticket during the 30 day period will snag the "Prize Fighter" title. Another title – "Lucky Bastard" – will be awarded to players that win one of the daily giveaways.
Finally, an epic trophy item is also up for grabs. The top ticket earner of each day, as well as the winner of each daily giveaway, will each receive the exclusive 30 Days of Fight holographic trophy item! The daily top ticket holder prize is available for all players. These trophy items will also be delivered at the end of the promotion.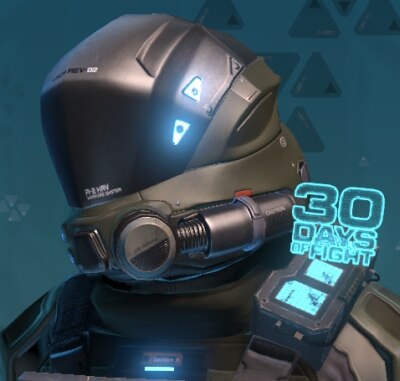 Winners will be placed on the Winner's List page! Also, keep an eye on the official Blacklight Facebook page, where each day's winner will be announced as well. 30 Days of Fight is now officially in full swing! Good luck, ladies and gentlemen!
Play Blacklight: Retribution, the free to play FPS with intense futuristic action.