By CrabClaw @ July 2, 2012 at 1:30pm

It's official – Blacklight Retribution is on Steam! Welcome new Steam users, and also any veterans returning for the occasion. Check out the new Hero montage, and then get up to speed with some useful info.
First of all, for users that register and play through Steam, an exclusive Orange Portal Gun weapon tag is up for grabs by reaching level 5. A blue version will also available in the Marketplace at a later date.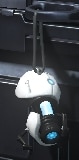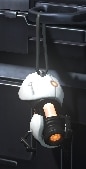 Want to get decked out in gear right out of the gates? A special Steam Starter Pack is available, and also half off for one week! This pack contains a fully customized premade primary and secondary weapon, armor and explosive items, as well as some starting GP to help get you started. The full contents are as follows:
SMG Premade – Krane B.SEV 'Downtowner'
Burst Pistol Premade – Foiche x2.7 'Haz Mat'
Scope – Lightsky L3 AimPoint
Barrel – Briar TDF 13
Helmet – Dataluxe Slant-X2
Chest – Guardian WarmongerL1
Gear – Toxic Grenade Mk.1
Gear – EMP Grenade Mk.1
3,000 GP Token
7 Day 10% XP Boost

Are you a brand new player? The following resources will help get you started in Blacklight:
Use HRV! By default, HRV is bound to the "V" key. Use it to activate your legalized wall hack and survey the battlefield. This is extremely important, so don't overlook it!
Complete the tutorial! Learn movement and combat basics by running through the Tutorial. The Tutorial is also a great place to test out new weapons before bringing them into a real match. Click "Training" on the main menu to get started.
The Beginners Guide forum on the official boards – this forum is full of helpful advice supplied direct from Blacklight veterans. Any questions you may have about equipment, strategy and everything in between can be answered here.
The Official Blacklight Wiki – this wiki is a repository of knowledge on all things Blacklight. Check it out to get yourself acquainted with the game.
Private Matches – Play in passworded games to practice, get used to the maps, or just goof off with friends.
Free GP – Get free GP every day by using the Facebook Connect system!
Finally, make sure to keep an eye on the homepage for up to date news about Blacklight! Good luck out there, Agent.
Wage war with advanced weapons and technology in Blacklight: Retribution, a free-to-play, futuristic first-person shooter.
Play Blacklight: Retribution, the free to play FPS with intense futuristic action.